ROY HARPER
"Then the next of the magical phone calls was from Roy Harper, who asked me to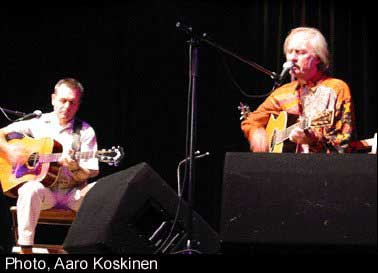 go out and play lead guitar in a band with him in America, which I did. And I got sacked after being there for a month or so, 'cause I got caught up in some desperate political situation with Chrysalis Records.
I came back, Roy carried on for a couple or months or so and when he came back to England he apologised and suggested that we form a band, which became Black Sheep. I worked with him for five years, in bands and as a duo, which was pretty much the main thing I did until 1980."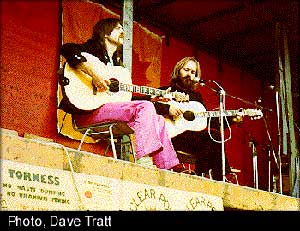 Andy also appeared with Roy Harper during Roy's birthday concert at the Royal Festival Hall in 2001.
... and Roy Harper's Autumn UK tour also featured Andy. Nick Harper was supposed to tour with Roy - but he got drunk, fell off a wall and broke his arm. Andy stepped in to fill the gap and completed a solo set at each of the gigs before joining Roy on stage as a duo.